Feed the Birds!
It's fun to make useful things and watch them being used by living creatures. Many birds stay north during the winter. The snow and cold make it difficult for them to find food, Making a bird feeder and hanging it in. a place where you can watch the birds will be a lot of fun!
Make a list of all the different types of birds you see. Compare your list with friends in different parts of the country. Make sure to hang your bird feeder away from fences and other bushes where cats could get to them.
Pipe Cleaner Bird Feeders:
Take a pipe cleaner and turn one tip into a tiny L-shape. Then string the pipe cleaner with Cheerios, leaving a short length to be bent over to hold the cereal. After shaping the pipe cleaner in to a cane shape, hang it outside for the birds. When the birds have eaten all of the cereal it can be refilled.
Milk Carton Feeder:
Use scissors to cut a large rectangle out of two opposite sides of a milk carton leaving a three to four inch lip on the bottom. Make two holes in the bottom lip and slide a thin dowel rod through letting it make a perch on two sides for the birds to sit on as they eat. Cut a hole to insert a string for hanging.
Jug Bird Feeder:
Cut away the sides and top of the jug, leaving a base of about 1 1/2 inches. Poke 2 holes in the plastic with a nail using scissors or a knife to enlarge the holes it needed. Push a stick or dowel through the holes, so it pokes out both sides to give the birds a perch. Poke two holes through the top and insert a wire or string for hanging.
Pine Cone feeder:
Use a plastic or butter knife to spread peanut butter all over a pine cone. Be sure you cover the whole pinecone. Place a layer of birdseed in a pan and roll the cone in the seed until it is covered. Tie a string around one end of the pinecone and hang it from a tree branch. If you don't have a pinecone, use an empty toilet tissue tube.
A Celtic Head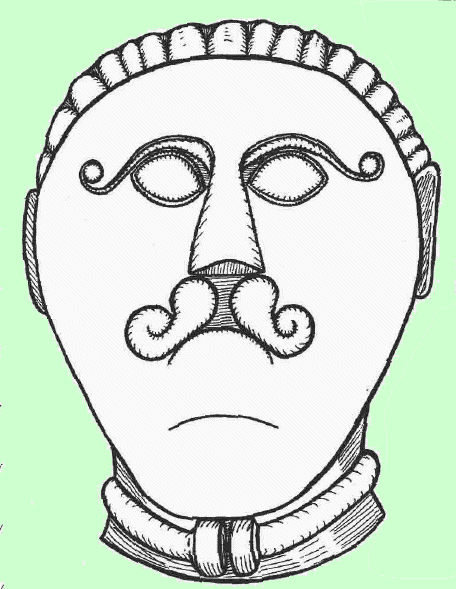 To the Pagan Celts the human head was a symbol of the soul of the power of spirit of speech and of vision. They carved many heads of stone and wood and seem to have used them in their places of worship and their ceremonies. They even practiced the taking of heads in war, sometimes keeping the heads or skulls as magical objects.
This carved stone head was found at the eastern end of the Celtic lands, in what is now the Czech Republic. It shows a Celtic man in the traditional style of his people. His hair is combed straight back, his big curling mustache covers his lip, and his strong jaw gives him a courageous look. Around his neck is a torc, the symbol of Celtic tribal identity or nobility. We don't know who the statue might be. It: could be a specific Chief or King, it could be one of the Holy Ancestors, or it could be a God.
Maybe it's the Dagda!
The Magical Alphabet of the Vikings
The Pagan Norse invented this alphabet, called the Runes. The word Rune means 'secret', or 'magical'. The Runes are a powerful set of magical symbols, that Pagan study for many years. But the Norse people also used Runes for writing, and to send messages. You can learn the Runes and use them to send messages to your Pagan friends, or even to the Gods and Goddesses!
Notice that the order of the alphabet is different from our English one, and that some Runes have to be used for more than one letter. That's because the Runes were created by people who spoke Scandinavian languages, which are a little different from English.
Translate the message on this page to get started learning the Runes.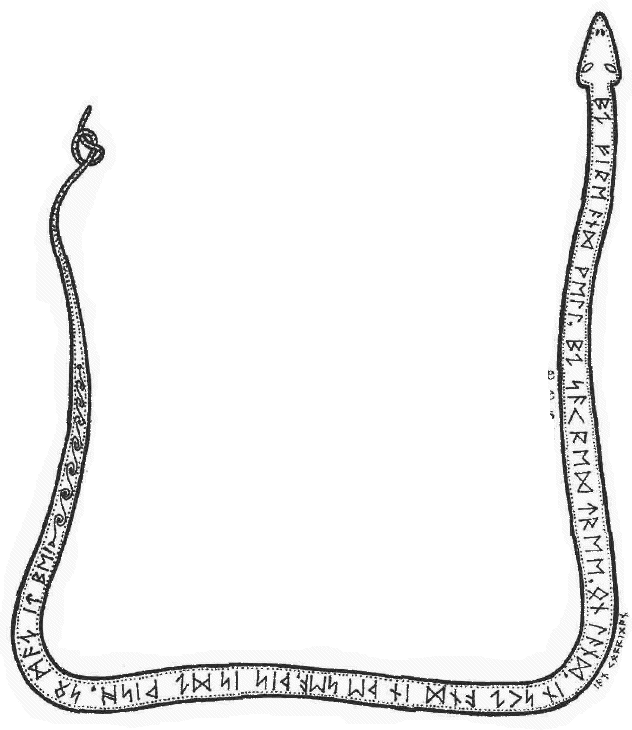 Word Search
| | | | | | | | | | | | |
| --- | --- | --- | --- | --- | --- | --- | --- | --- | --- | --- | --- |
| T | R | I | P | L | E | F | L | A | M | E | M |
| N | F | S | E | F | I | W | D | I | M | R | A |
| E | P | A | I | M | B | O | L | C | K | I | E |
| P | O | M | R | U | A | D | A | N | A | F | G |
| R | E | E | K | C | O | N | N | A | B | O | M |
| E | T | L | W | S | H | T | R | A | E | H | O |
| S | R | D | T | E | C | T | K | D | O | L | T |
| E | Y | N | R | T | G | N | I | L | A | E | H |
| R | D | A | G | D | A | R | N | M | I | D | E |
| B | O | C | L | L | B | C | B | Y | S | M | R |
Find all the words, and the leftover letters will spell this fun Imbolc activity.
| | |
| --- | --- |
| Bannock | Imbolc |
| Bres | Lamb |
| Brideog | Midwife |
| Candlemas | Milk |
| Cattle | Mother |
| Dagda | Poetry |
| Ewe | Ruadan |
| Fire | Serpent |
| Healing | Smithcraft |
| Hearths | Triple flame |
Maze
Help the lamb find its mother.